Manchester United will release their latest finance figures at lunchtime, with executive vice-chairman Ed Woodward facing a grilling from investors. What can we expect to hear from the club that's back on top of the Deloitte Football Money League?
These chats with Manchester United's hierarchy can be a bit like watching the team under the stewardship of David Moyes and Louis van Gaal.
Much like the fans who turned up week in, week out during those eras, journalists will listen in with high expectations of new exciting information, but traditionally find very little to lift them from their seats.
That's because the questions put to Ed Woodward will come from investors, who tend not to be fans, but experts hoping for a steer on what United are planning and how that might affect the value of the club and its share price.
A year ago, the man appointed to run the club on behalf of the Glazer family was asked about the health of the club's academy following the exit of Brian McClair. Ex-player Nicky Butt is in charge of plotting the overhaul of a system that, while it's produced Marcus Rashford, Jesse Lingard and Paul Pogba, isn't churning out top-level talent in keeping with the traditions of Sir Matt Busby and Sir Alex Ferguson.
To give a clear indicator of how these telephone conferences can operate, this time last year when United were struggling to find any consistency under Van Gaal following a wretched festive programme, his future wasn't mentioned once but Woodward was asked about summer arrivals. He confirmed United would invest.
Four new players arrived in the transfer window, smashing the world record for a player (Pogba). This time round the funds are there for more spending with a kitty bolstered by the January departures of Morgan Schneiderlin (to Everton) and Memphis Depay (to Lyon).
That's the positive spin and no doubt the financial headlines will be impressive again for a club that's struck sponsorship deals with more than 70 organisations from around the globe. On Wednesday they unveiled Tag Heuer's new Manchester United watch range, which included the bizarre sight of Wayne Rooney and Zlatan Ibrahimovic cutting cheese!
But the money men who'll be dialling in to speak to Woodward will primarily want to know how much cash will be coming through the club's coffers if Jose Mourinho fails to secure Champions League football next season.
United are sixth in the Premier League, two points off Arsenal who find themselves in the hallowed fourth spot.
---
Last season, United's first under the £750m Adidas deal that stretches 10 years, they finished fifth to miss out ultimately on goal difference. Under the terms of the kit deal, if Champions League football fails to materialise again, a penalty clause will be triggered.
Commenting after the release of the first-quarter figures in November, United's chief financial officer Cliff Baty revealed that they'd take a 30 per cent hit, currently worth around £21m, but that "hit" would be spread across the remaining eight years of the Adidas deal.
In short, United would see their annual payment from the German sportswear giant slip by around £5m next year, with the penalty reducing it to around £2.5m a year for the remainder of the agreement, presuming, of course, that Mourinho manages to pilot his side into UEFA's blue riband competition next season.
---
Interestingly, if United qualify for the Champions League by winning the Europa League this season, they will avoid any financial penalties from Adidas as the terms of the agreement are dictated by Champions League qualification rather than their position in the Premier League.
But missing out on Europe's premier competition this time round wouldn't, perhaps, be the doomsday scenario predicted by some.
United have already proved they're able to attract the very best players with only Europa League football on the table, though that might have helped to push up prices even beyond the inflated values they're traditionally expected to pay.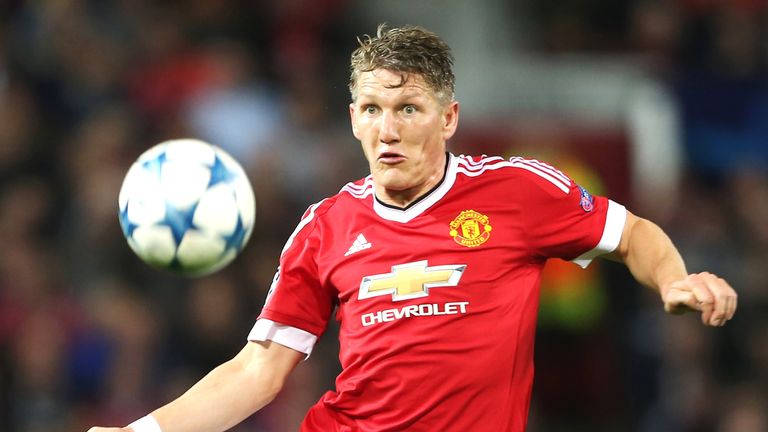 The future of Bastian Schweinsteiger at Old Trafford remains unclear
Missing out, again, on the £30m on offer by UEFA for Champions League qualification would be a more painful blow, but United managed to smash through the £500m annual revenue mark for the first time by a UK club without that anyway.
I also understand that no such 'Champions League penalty clause' is in place regarding the club's highly lucrative shirt sponsorship agreement with Chevrolet which rakes in around £47m per year.
One other thing to be aware of is that Bastian Schweinsteiger might return to the club's balance sheet having been written out of them last year.
Under the 'exceptional items' section of United's annual results released last summer, it listed a sum of £6.7m "related to a registrations' impairment charge regarding a reduction in the carrying value of a player no longer considered to be a member of the first team playing squad".